More than six million people have chosen Marbella as a holiday destination in the last decade and many of them end up falling in love with this elegant city. The Costa del Sol has become one of the main poles of attraction for foreigners looking for a second home in Spain and the sale of homes in Marbella is evidence of this fact.
The main attractions of this destination are a pleasant climate, with more than 300 days of sunshine a year, magnificent infrastructure for tourism, a varied choice of leisure, culture and sport, and an environment of singular natural beauty. The municipality is located by the sea, with the magnificent beaches of Marbella sheltered by the imposing mountain backdrop of Sierra Bermeja and Sierra Blanca.
The city is located in the centre of the so-called 'Golden Triangle' consisting of Marbella, Benahavís and Estepona. Located on the coast of the province of Málaga, there are many reasons why this is the epicentre of such an exclusive region. To begin with, there are around 15 golf courses in Marbella, making it the region with the greatest concentration of golf courses in Europe. Some golf clubs are considered highly prestigious among sports professionals, including Aloha, Las Brisas, Cabopino, Guadalmina, Los Naranjos, Santa Clara, Río Real, Guadalmina and the Marbella Golf Club, among others.
Best Beaches in Marbella
Equally as striking as the lush greenery of the golf courses is the blue of the sea. Around 30 kilometres of stunning Mediterranean coastline combine the idyll of salt, sun and sand around Marbella. The area boasts 24 beaches of all types, with something to suit every taste. They range from virgin coves where peace and tranquility reign,such as Cabopino and the Artola Dunes, to other more lively beaches lining the Golden Mile and the Puerto Banús area. These upscale areas are home to some of the most fashionable beach clubs and restaurants in Marbella (think Nikki Beach, Ocean Beach Club and Puro Beach Marbella). They are perfect for enjoying the day and prolonging the fun until late at night, with good company, excellent customer service and a great atmosphere.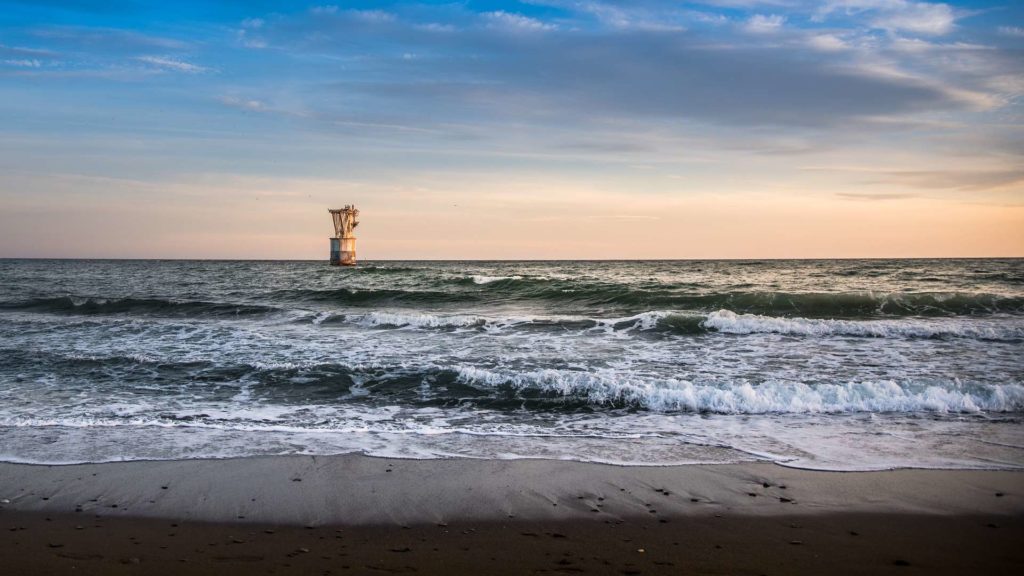 Gastronomy: The Best Restaurants in Marbella
If we want to taste the most exquisite gastronomy of the 'Golden Triangle', you need to reserve a table at one of the Michelin-starred restaurants in Marbella. The most famous include Restaurante Messina Marbella, with chef Mauricio Giovanini at the helm; Dani García Restaurante and Bibo Marbella restaurant in the Puente Romano Hotel; El Lago, run by chef Diego del Río; and the exclusive Skina, by Jaume Puigdengolas, which only serves 14 guests per sitting The innovative gourmet market Ambrosia is another source of rich gourmet cuisine and mouthwatering tapas.
Other activities in Marbella
Other activities in Marbella to enjoy during your free time are those related to the world of sailing. There are four marinas, all well-equipped for offering watersports in Marbella. The Marina Bajadilla is in the heart of the city along with Cabopino Marina, to the east, and Puerto Banús, to the west. The latter is the #1 marina par excellence on the Costa del Sol. Numerous companies provide unforgettable boat trips on the glittering blue sea aboard impressive yachts. You can also go diving, scuba diving, sailing, surfing, windsurfing, kitesurfing and paddle surfing.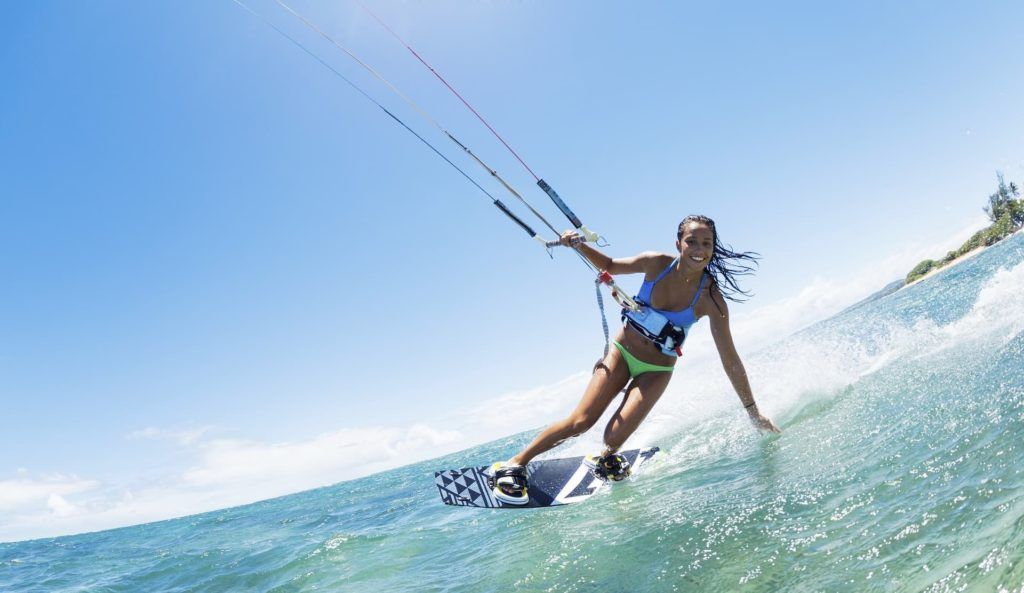 Reaching Marbella by Land, Sea and Air
The excellent national and international connections with the Costa del Sol allow residents and visitors to enjoy this Mediterranean paradise at any time of the year. Marbella is just over half an hour from Malaga International Airport, with direct flights from Malaga to an infinite number of destinations, both in Spain and the rest of the world.
The distance from Malaga to Marbella is less than 50 kilometres, a journey that can be covered in a short time via the AP-7 motorway, the Autopista del Mediterraneo. Another popular means of transportation is the high speed AVE train offering Málaga-Madrid connections throughout the day as well as to Barcelona and other major cities.
You can also reach Marbella by flying into Gibraltar or Jerez de la Frontera airports. And of course, you can arrive by sea, since Malaga has one of the most important cruise ports in the whole Mediterranean.
Luxury Living in Marbella and Puerto Banus
Marbella has become a popular shopping tourism destination, with areas that showcase numerous clothing stores both in Marbella and Puerto Banus. They represent some of the most important brands in fashion, accessories, jewellery and cars, with dealers who specialise in high-end vehicles. As far as shopping is concerned, there are three places you must visit for the latest fashions from the world's most outstanding brands and designers. The most famous is Puerto Banús, with offerings by Carolina Herrera, Bottega Veneta, Bulgari, Cartier, Chopard, Dior, Emporio Armani, Gucci, Hermés and Louis Vuitton in their windows, among many others.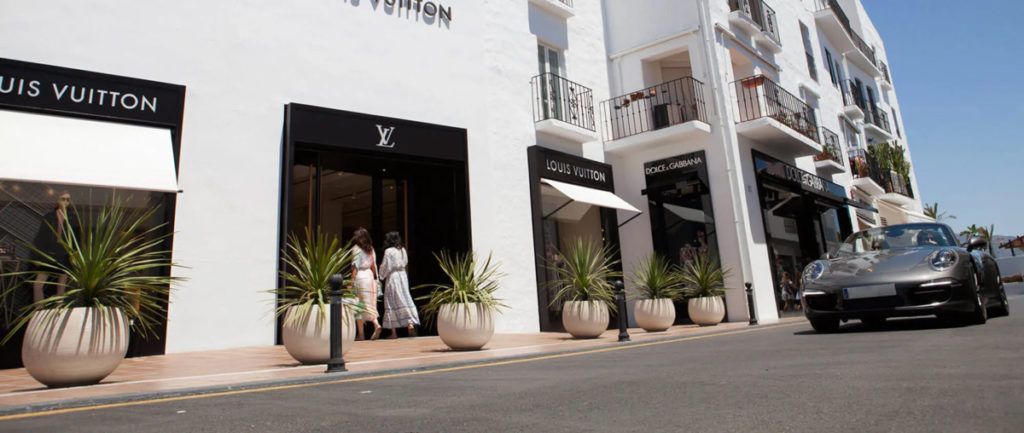 Must-sees are El Corte Inglés, La Cañada Shopping Centre, Marina Banús and El Capricho. Another option for shopping in Marbella is a stroll through the city centre, with an infinite choice of clothing and accessory shops lining the streets and squares . Alternatively, visit the markets where you can find souvenirs and treasures.
Just as important as having the latest fashion in your wardrobe is looking radiant and healthy, Marbella is home to a variety of health centres, beauty and wellness clinics and spas. It is one of the leading locations for health tourism, particularly with its reputable hospitals and highly specialised health facilities.
Marbella: A City to Live In
In addition to all the benefits already mentioned, there are excellent nurseries and international schools in Marbella such as Aloha College, Swans, Deutsche Schule and Colegio Sueco. They provide children and students with an outstanding international education. In Marbella you will also find a wide range of cultural facilities, museums, a theatre, art galleries and cinemas for entertainment and cultural enrichment.
There are properties for sale in Marbella to suit all tastes, from luxury villas on the Golden Mile and Sierra Blanca to homes in Puerto Banus, apartments on the beach and villas in quiet areas such as Nueva Andalucia, Las Chapas and Elviria. Whether you are looking for a beachfront property for sale, a villa with spectacular sea views or an apartment in Marbella to spend your vacation time, you will find the home of your dreams here.
MARBELLA AREA BY AREA
Whether you require a holiday home or as a permanent residence, it is important to know the different areas that make up Marbella. As a municipality it offers a wide variety of environments and properties to suit all lifestyles. These are the most important residential areas in Marbella:
Cabopino: East of Marbella this natural enclave of outstanding charm is one of the most peaceful corners of the city. Far from mass tourism, the beach is considered a natural beauty spot with its white sand dunes.
Old town: Typical Andalucian village with white-washed buildings, cobbled streets and pretty squares. It has Roman, Arab and Christian remains and boasts a lively ambience by day and night.
El Rosario: Excellent houses close to the sea and Las Chapas Beach just a short drive from the centre of the town.
Elviria: Around 7km from the historic centre of Marbella, it has some of the best white-sand beaches and lush green spaces in the area. It has one of the best residential areas and is home to several well-known beach clubs including Nikki Beach. It's an area worth looking at to find quality homes for sale in Marbella, apartments on the beach and very private villas with their own garden and pool.
Guadalmina: Large private residences in a refined and pleasant urbanisation. It is divided into two areas: Guadalmina Baja, next to the beach, and Guadalmina Alta, on the north side, in the mountain foothills. The entire urbanisation is developed around Guadalmina Golf, one of the best golf courses in the municipality .
La Mairena: Offering impressive views of both the sea and mountains, it is at the foot of the Sierra Alpujata in the midst of a natural setting of cork oaks and extensive green areas. It matches beautiful villas and luxury homes in Marbella with numerous local services and a good infrastructure including the German School, restaurants, banks etc.
La Quinta: At the top of what is known as the Marbella Golf Valley, it has a cosmopolitan atmosphere. Magnificent villas make up a complex that is gaining renown due to new construction projects and excellent facilities including sports clubs, a horse riding centre and artificial lakes.
Las Chapas: This small urbanisation has beautiful pine forests combining relaxation and a family-friendly atmosphere with an excellent beach.
Los Monteros: On the outskirts of Marbella, it has one of the most famous luxury hotels on the Costa del Sol. The area runs parallel to the Mediterranean and is made up of several private and very safe urbanisations.
Golden Mile: Situated between Marbella and Puerto Banus, this area is the epitome of exclusivity and luxury. It is characterised by luxurious villas, mansions and prestigious establishments with great international recognition such as the Puente Romano Hotel, the Marbella Club and Michelin star restaurants by Dani Garcia, among others. It includes the best shopping, golf courses, restaurants, art galleries, beach clubs and more.
Nagüeles: Villas, townhouses and apartments are just 10 minutes' drive from Puerto Banus and the historic centre of Marbella, as well as the Swans International School, one of the most prestigious in the area. These all make this urbanisation ideal for families wanting to establish a permanent home in Marbella.
Sierra Blanca: At the foot of La Concha Mountain in the Sierra Blanca, this area has impressive plots with some of the most majestic luxury homes in Marbella. This private, safe urbanisation is next to the so-called 'green lungs of the city', a green belt of pine trees and groves that borders this location.
Nueva Andalucía: Just above Puerto Banús this sought-after area has private villas and large enclosed urbanisations that provide security and tranquility. It is ideal for family vacations due to its proximity to the best golf courses on the Costa del Sol, with restaurants, cinemas and shops just a short walk away.
Puerto Banus: Known as the playground of the most important VIPs and royalty visiting Marbella. It combines glamour, beaches, nightlife, exclusive shopping, luxury boutiques, seaside apartments and wealthy estate homes.
Río Real: Located in the eastern part of Marbella this group of villas, townhouses and properties has large green areas including the golf course of Río Real. It is surprisingly close to the city centre and about 3km from La Cañada Shopping Centre.
San Pedro (beach): Practically an independent town but still part of Marbella, it is the perfect combination between a typical Andalusian village and the sophisticated beach bars next to Puerto Banus.