Have you always wanted to live in Marbella and enjoy the Mediterranean sun in your own luxury villa? Or wake up in an exclusive penthouse with the sound of the sea? In this post we compile the 10 most Exclusive areas in Marbella, and the best properties to make your dreams come true.
Marbella is located in the south coast of Spain, in Andalusia, and is renowned for its luxury private estates and magnificent villas in The Golden Mile, or La Zagaleta.
It is hard to choose a single area as the best place to live in Marbella. If you are wondering where to live in Marbella, these areas offer all the services and amenities anyone could ever need, as private beach clubes, 18-hole golf courses, horse ridding or sailing facilities. From villas in Marbella next to the golf, to luxury first line beach apartments, choose you favorite!:
Golden Mile
The term "Golden Mile" refers to the area between Marbella old town and Puerto Banús. This name was given to the area due to the exclusive shops, luxury villas and 5* hotels.
With the long, golden, sandy beach of Playa de Nagüeles right on its doorstep, the residential area of the Golden Mile of Marbella is characterised by quiet, leafy avenues and comfortable apartments next to the sea and houses with lots of green spaces, making this the perfect place to unwind. Marina Mariola or Puente Romano are one of the most exclusive communities of this area situated right in front o the beach and the Paseo. International restaurants as Cappuccino Marbella and Tanihi are right next door.
Half way between Marbella city and Puerto Banús is this spectacular urbanización, slap-bang in the middle of the Costa del Sol. This truly is a real high-end, luxury destination thanks to the presence of the prestigious Marbella Club and the Puente Romano hotel resort, as well as the palaces and villas that dominate the real estate market here. Check out all the properties for sale in Marbella's Golden Mile!
Puerto Banus
Considered the jewel of the crown for luxury leisure and exclusive Marbella properties. International designers shops, exclusive yatchs in the harbor, and the most sumptuous restaurants and beach clubs. It has one of the highest prices per square meter for property in all of Marbella. Puerto Banús is where luxury begins!
Puerto Banus property development was started in 1970 by local property magnate Jose Banus. What began as a Mediterranean coastal village with luxury marina and shopping complex has grown to a high-end resort that is well frequented by international celebrities and wealthy yacht owners. The town includes a casino, seafood restaurants around the bustling marina, designer boutiques and chain store brands in Centro Plaza Shopping Mall.
Do you want to see how luxury looks like? Check available properties for sale in Puerto Banus. If you are looking for something more "down to earth", we also have properties that might be just perfect for you!
Aloha area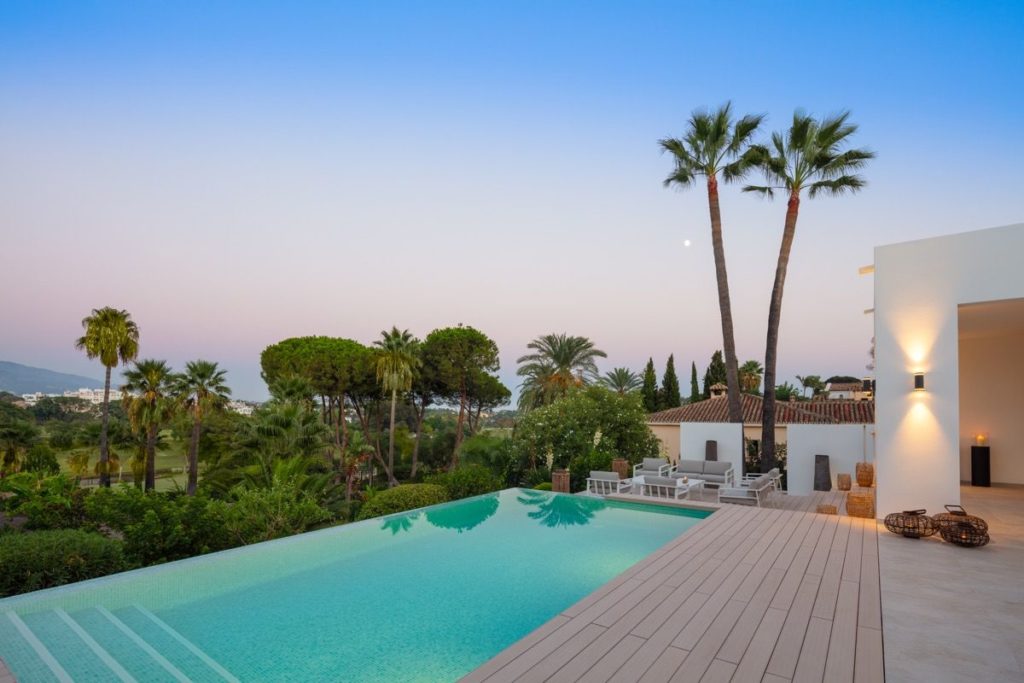 Situated in Nueva Andalucia a just 10 minutes drive from Puerto banus, this extensive community is great for golf lovers and families due to its safe and quite atmosphere and its proximity to international schools and Puerto Banús.
The area is internationally renowned for its golf course "Aloha Golf Club", as well as the shopping area of Centro Plaza an its surroundings with boutiques, cafés and trendy restaurants. Aloha area is a quiet residencial area just a few minutes from Puerto Banus.
Renowned golf courses as Aloha golf course or las Brisas are just a few meters away. Aloha College is one of the best schools of the Costa del Sol for families looking for a more permanent residency.
Nueva Andalucia has experienced an increasing demand over the past decade and is now one of the best places to live in the Costa del Sol.
Los Naranjos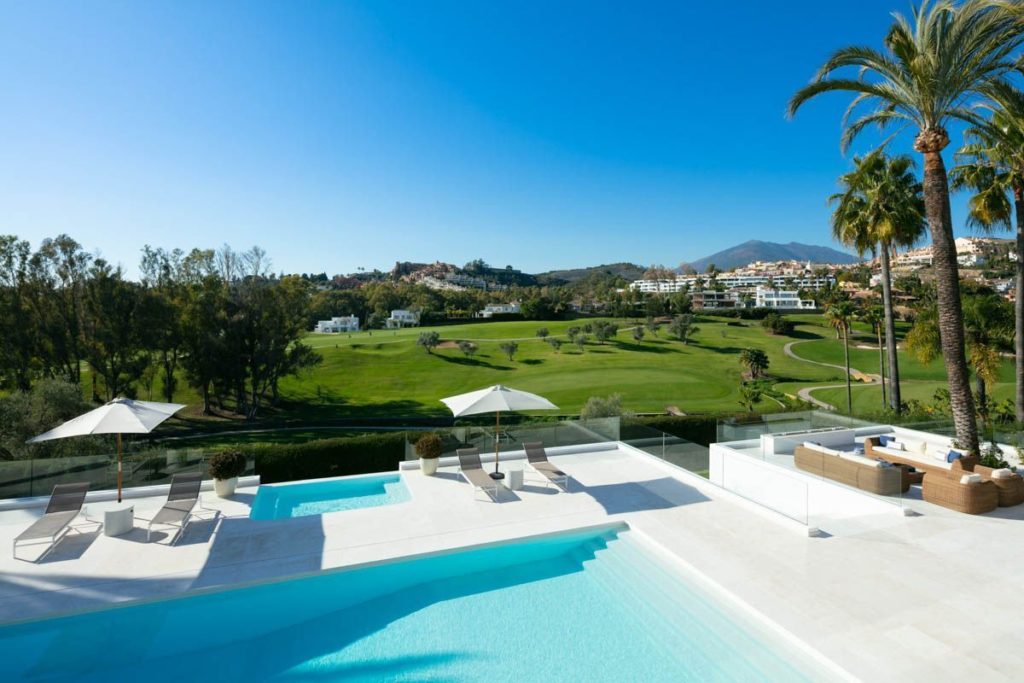 Located just a few minutes from Aloha, Los Naranjos is a highly renowned area in Nueva Andalucia, also known as the "Golf Valley". Lush urbanizations, large private villas, green areas and a relaxed Mediterranean lifestyle are the main attractions of the area.
At Los Naranjos area you can choose to live in a whitewashed townhouse with a charming Andalusian style, or a super modern private villa surrounded by golf courses. The area has all the facilities for the perfect home, from paddle and golf clubs, to schools supermarkets and shops.
We have properties in Nueva Andalucia for all budgets from luxury apartments to penthouses and villas overlooking the green fairways
Sierra blanca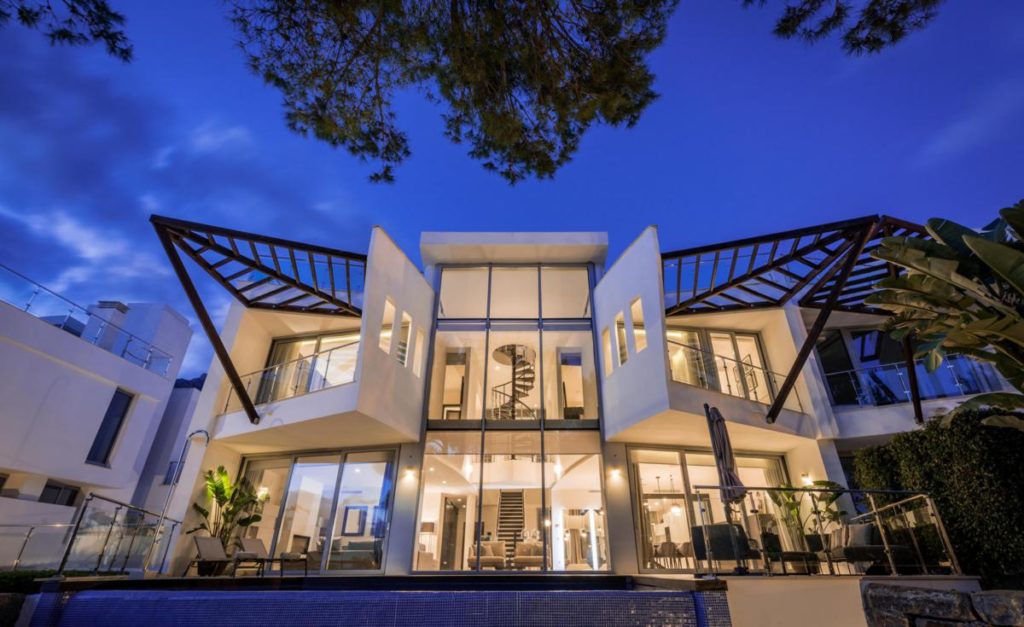 Within walking distance to the city centre, Sierra blanca is a private gated community in the heart of the Golden Mile just steps from the beach and a wide range of luxury shops and 5 stars hotels.
Known to be a very exclusive area of the Costa del Sol, Sierra blanca hosts some of the most exclusive Marbella properties!
Sierra Blanca takes its name from the white peaks above the urbanization that shelter it from strong winds and cool the summer heat.
The area boast many luxury shops, trendy cafes as well as award-wining restaurants like Dani García. Swans International School, one of the longest stablished schools in Marbella is located in Sierra Blanca, a great option for families!
It has easy access to the main areas of Marbella: The old town and Puerto Banus are just a short drive away. Check our properties in Sierra Blanca and start living the Mediterranean lifestyle!
Los Monteros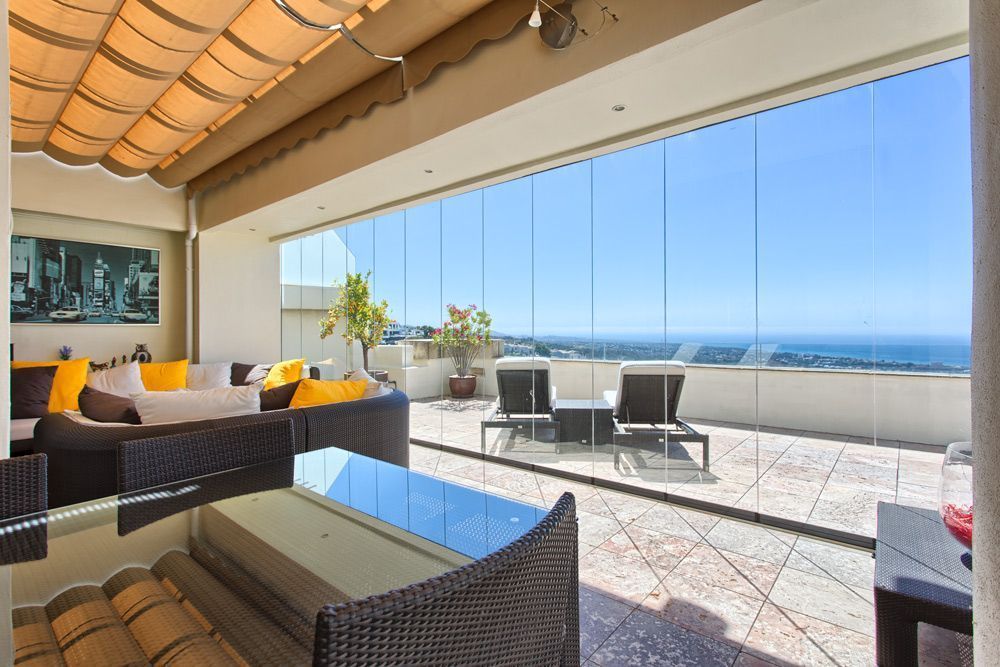 Located on the eastern side of Marbella, this area is renowned by its sandy beaches, mansions and villas as well as Spa and Golf resorts.
The Hotel Los Monteros, a 5 star grand luxe Hotel, was built in 1962. After that date, the area experienced a fast development, including the construction of golf courses, villas and new urbanizations.
Nowadays, as a consolidated area, los monteros offers a wide range of properties for sale, from beachside apartments or brand new developments to houses to refurbish .
Wake up and enjoy a walk through the Playa de Los Monteros, with its many chiringuitos, or exclusive beach clubs as Trocadero Arena.
For families with kids in school ages, the English International College (EIC) is nearby.
The area boasts several renowned golf courses as Santa Clara Golf Club or Marbella Golf and Country Club. Do you fancy an apartment next to the golf in Los Monteros? Or maybe a luxury penthouse with breathtaking views?
Guadalmina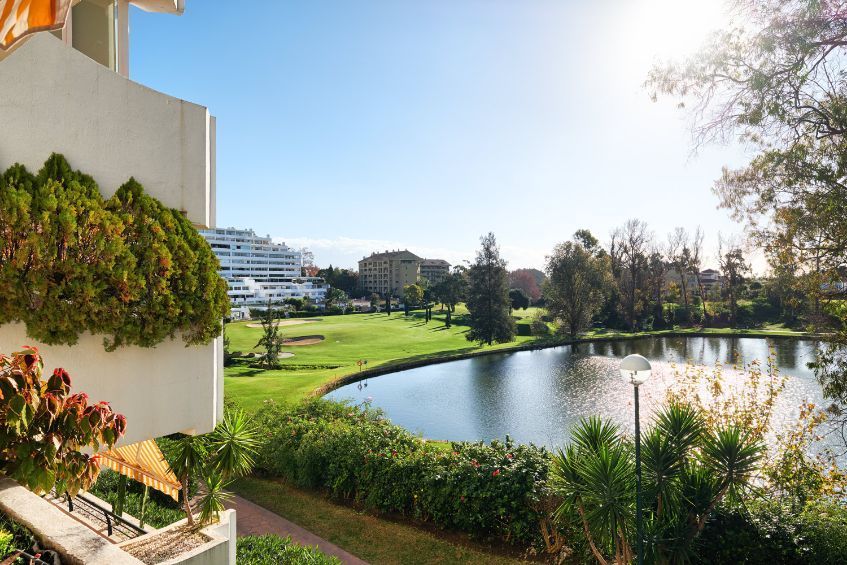 This area combines golf and beach. It has possibly one of the best golf courses anywhere in the region – The Guadalmina Golf Club- and is within easy reach of several other golf courses.
Guadalmina takes it name from the river running through the area. It is split in two main areas: Guadalmina Baja and Guadalmina Alta, divided by the A-7.
Guadalmina Baja is the area next to the beach, with many restaurants, beach clubs, hotels and luxury apartments. Guadalmina Alta excels for its golf courses and more relaxed lifestyle with villas and townhouses.
For families with kids in school ages, the renowned international School San José is within a short drive.
Most of the real estate property in Guadalmina Baja is a mix of Apartments and Luxury penthouses. Guadalmina alta properties are ideal for golf lovers and people seeking for a relaxed lifestyle yet close to Marbella main areas.
Los Flamingos

Halfway between Marbella and Estepona, Los flamingos is a quiet residential area surrounded by three golf courses and a superb natural environment.
The renowned Hotel Villa Padierna, is one of the most luxury hotels in Marbella and the Costa del Sol. Enjoy a relaxing day at the spa, or taste an exquisite fine dining by the restaurant.
Los Flamingos is a picturesque area, with a golf course that has stunning views of the Mediterranean Sea and views of Africa in the distance. It's a course that will challenge you and make you come back for more"

Michael Campbell
Check our listings to see all the golf properties in Los Flamingos, from townhouses with golf views to beautiful penthouses overlooking the Mediterranean Sea.
Elviria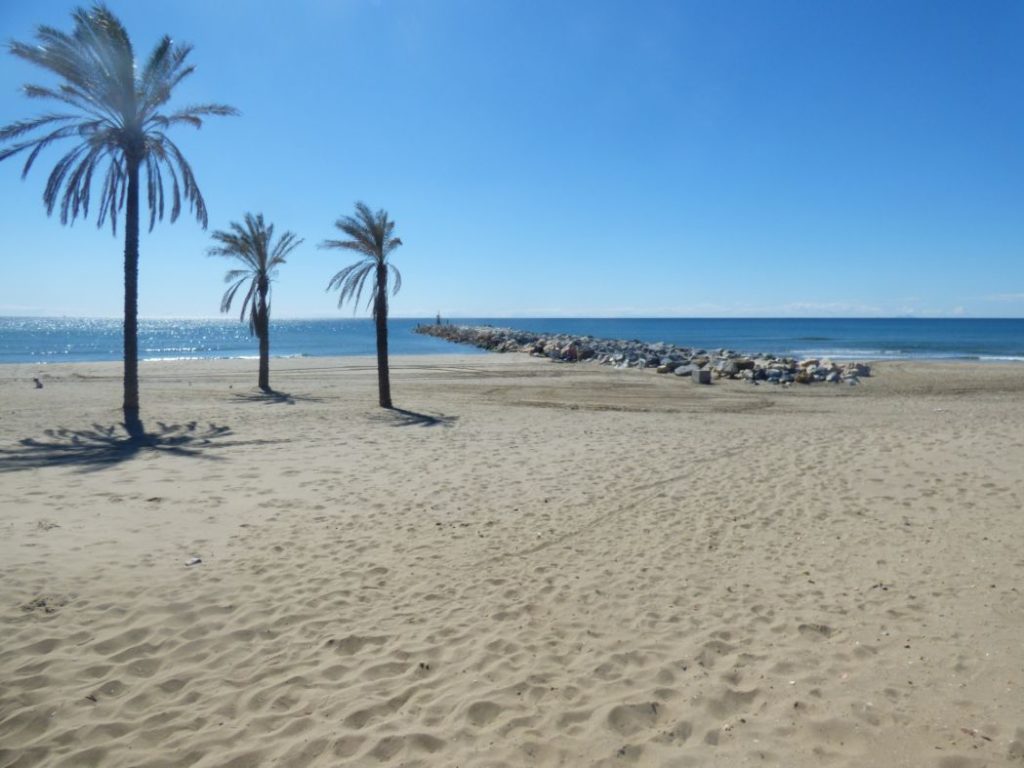 Elviria is a renowned area on the east side of Marbella. If you are looking for white sandy beaches, trendy restaurants, beach clubs and challenging golf courses, it ticks all the boxes! It is the perfect holiday destination for families and expats alike.
Only a 10 minute drive to Marbella, Elviria is increasingly in demand thanks to its proximity to the beach, golf courses, international schools and its wide range of restaurants options. All just a few minutes away from your new home!
You can also enjoy some of the many leisure activities of the area. Choose between the beaches of Elviria, Las Chapas o El Rosario, or the nightlife and shops of Marbella Center or Puerto Banus.
Would you like to see for yourself? Discover the best properties in Elviria.
La Zagaleta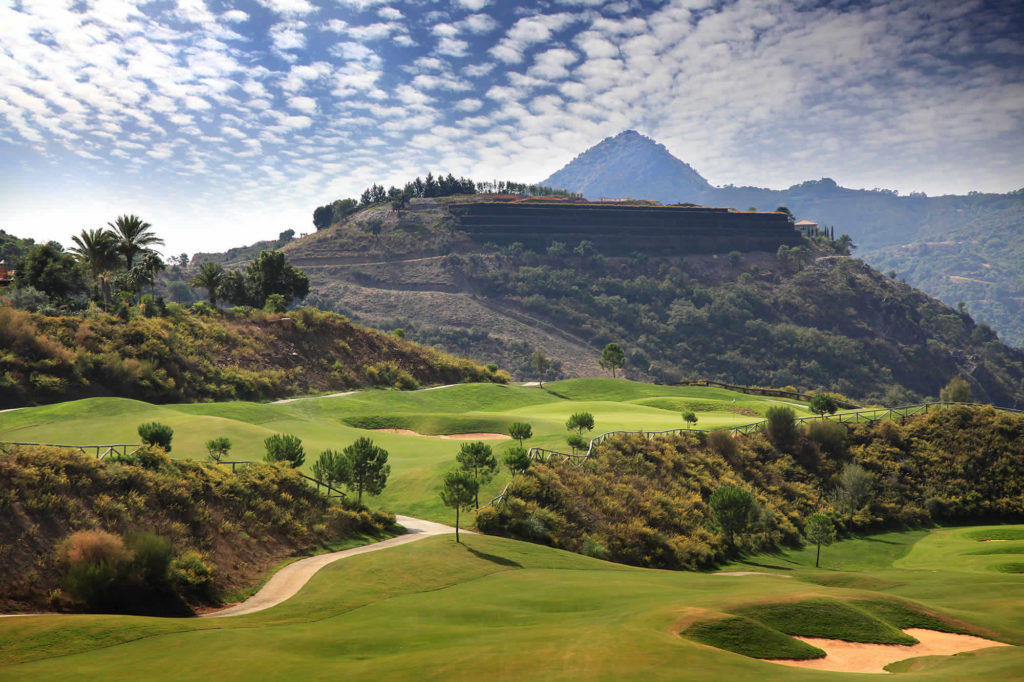 Finally, we couldn't let you go without a peek at Marbella's millionaire's playground, the ultraluxury resort which has some of the highest property prices in the whole of Spain.
It is considered to be one of the most private and secure urbanizations in the whole Europe. It has its own golf course, horse club and sports facilities only for residents and their families. Privacy and luxury at is most.
Superstar celebs such as Hugh Grant, Vladimir Putin and Rod Stewart all own a property in La Zagaleta, and it's where Cristiano Ronaldo took his family on holiday last year to an exclusive Marbella rental at a cost of 40,000 euro a month!