To buy a property in Estepona is to acquire the pleasure of enjoying 23 kilometres of coastline, on the shores of the beautiful Mediterranean. It is a natural environment of singular beauty at the foot of the impressive Sierra Bermeja mountain range. This municipality of the New Golden Mile – Estepona, Marbella and Benahavís – has been the second fastest growing tourist destination in Andalusia and every year hundreds of people choose to spend their holidays here.
The region offers not only spectacular scenery but also magnificent residential and tourist structures. It has a balmy climate, with 300 days of sunshine a year, mild winters and warm summers. All of this means that many visitors who book a few days of relaxation end up surrendering to the infinite charms of the municipality. They fall in love with Estepona, either as a second home or in order to settle as expats in their new place of residence.
Estepona is well connected by road, with direct access to the AP-7 highway that runs along the entire coast of Malaga and the Mediterranean. Just 83km from Málaga, the province's international airport can quickly be reached. It offers daily connections to national and international destinations. Another interesting and comfortable travel option is the AVE high-speed train. From the station in the centre of Málaga, in just over two hours you can be in Madrid and heading for Barcelona and other important areas in Spain.
Heading west from Estepona is Gibraltar airport, which provides even greater accessibility to this key location on the Costa del Sol.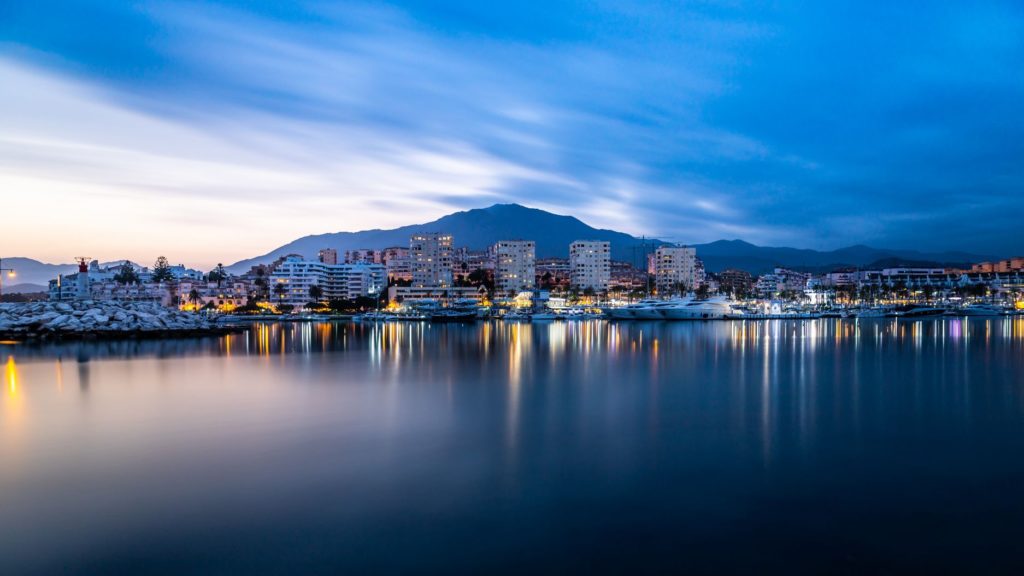 Buoyant Real Estate Market
The interest that the area arouses among those who want to buy homes in Estepona is evidenced by the high real estate activity in the area. Reports presented by the Tinsa Valuation Society confirm that this town has one of the highest numbers of residential transactions, thanks in large part to the many new developments for sale that surround the town. The area is third in sales volume on the Costa del Sol, just behind Marbella and Mijas.
The presence of a wide range of high quality properties includes apartment developments with all kinds of facilities: gyms, saunas, sports courts. You can buy townhouses in gated residential areas with their own security and luxury villas with magnificent views. Estepona also has excellent infrastructure including golf courses, beaches, hotels, restaurants and bars. Specialised companies offer a range of tourism and leisure activities.
Excellent Golf Courses and Magnificent Beaches in Estepona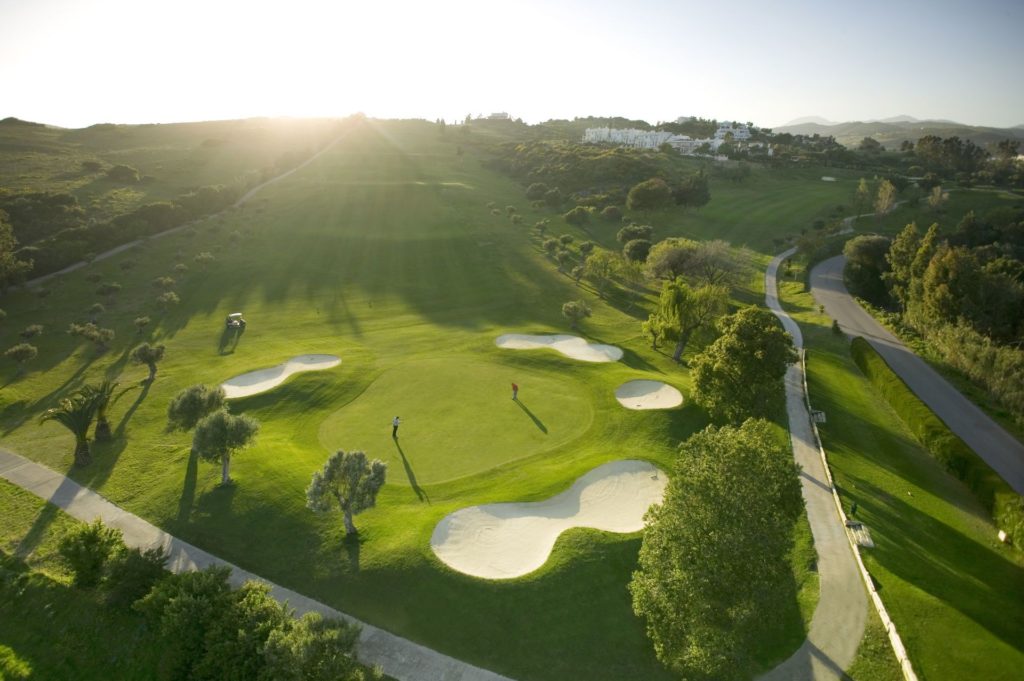 Estepona has eight golf courses in and around the municipality. Several of these enjoy great prestige among golf fans and amateurs alike, as is the case of Valle Romano, Club Estepona Golf, El Coto de la Serena and El Paraíso Golf Clubs. El Campanario and Atalaya are also challenging courses to play.
All these golf clubs have 18-hole courses that challenge the golfer along with impressive panoramic views of the sea on one side and the mountains on the other.
Nautical activities and swimming in these quiet waters are another Estepona attraction. The municipality has a total of 17 beaches, all of which have beach bars and the necessary facilities to guarantee the safety and comfort of residents and visitors. La Rada is the best beach in Estepona with a Blue Flag that accredits its optimal conditions and water quality. Cristo Beach is a charming cove, Casasola is usually one of the busiest and the rest are very quiet beaches such as Río Castor, Los Pinillos or Bahía Dorada.
Hotels, Restaurants and Leisure.
Estepona has been gaining prestige as a vacation spot. In addition to the golf courses and beaches, Estepona is well equipped for tourism, with hotels that have all kinds of amenities. Top resorts include the Estepona Palace, Hotel Las Dunas Estepona and the luxurious Hotel Kempinski Estepona, one of the most exclusive accommodation on the New Golden Mile. It also has one of the most prestigious restaurants in the region, La Cabaña del Mar,overlooking excellent views of the Mediterranean coast.
The gastronomic offerings around this part of the Costa del Sol is exceptional and you can find many restaurants in Estepona that attract very favourable reviews.
Besides the already mentioned La Cabaña del Mar you can enjoy delicious regional, national and international cuisine in El Paraíso Restaurant & Country Club, in the urbanisation of the same name. El Palangre, with more than 15 years of experience, specialises in seafood and local dishes with the 'bull's tail' as the star dish. For sea views try the Retrobar 11&11 overlooking Estepona Marina. Another culinary gem is the Camurí Estepona Restaurant, with unique decor and atmosphere, exquisite dishes and a high quality service.
Camurí is in Laguna Village, a shopping centre in Estepona and one of the most fashionable resorts on the Costa del Sol. It is home to two of the most famous beach clubs in the area -Purobeach Estepona and Laguna Beach Estepona. It is also one of the essential stops for those who want to be trendy, with a cluster of boutiques selling clothing and exclusive brand items.
More specialised restaurants and bars can be found in the the Diana Estepona Shopping Centre. Locals and visitors gather to enjoy Italian, Spanish, Mediterranean, fusion and tapas cuisines. There's something for all tastes and the most demanding palates!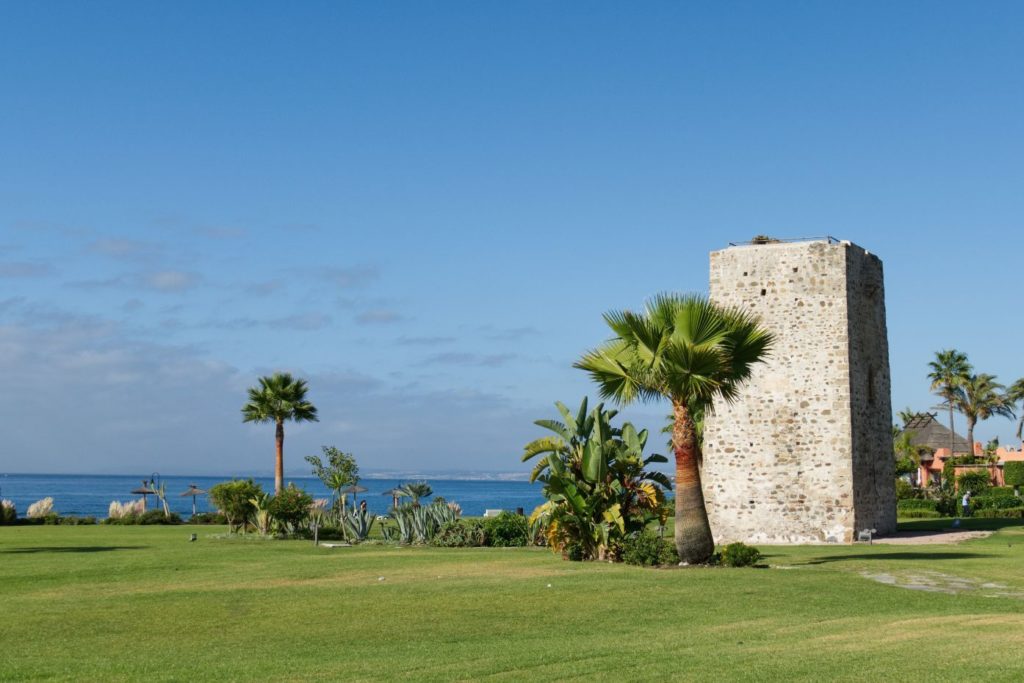 Those who want to broaden their horizons and visit the most exclusive and luxurious boutiques can head to Marbella, Puerto Banús or large complexes such as El Corte Inglés or La Cañada. The heart of the New Golden Mile is just over 30 kilometres from Estepona town and can be reached quickly and easily by coastal motorway and highway.
Education, Wellness and Health
Families that choose to live in Estepona will find educational and training opportunities to satisfy the highest expectations of parents. The area has one of the best schools on the Costa del Sol, the Colegio Internacional de Estepona, a British school that has been teaching young people for more than a decade. The bilingual school Atalaya Estepona and the San José School in Estepona are equally well known.
Those who are interested in alternative educational institutions can enrol their children in neighbouring Marbella at Colegio Aloha, Swans College, EIC (English International School), the British School of Marbella or the German School of Marbella.
The highlight of this municipality as a holiday destination and place to live is the excellent health services, clinics and beauty centres. The wellness complexes are another must-sees in the area, especially the Barceló Estepona Thalasso Spa and the Elba Estepona Gran Hotel & Thalasso Spa.
Where to Buy a House in Estepona
The city offers excellent real estate with magnificent penthouses and exclusive urbanisations of townhouses. They include numerous services and comforts for daily life. The best new developments offer a great selection of villas with large plots and plenty of privacy.
It is important to know the town well and to know the different residential areas and urbanisations that define Estepona.
Casasola: This is one of the most exclusive residential areas in Estepona. It is situated between the N340 and the beach and is divided by the Las Cañas and Guadalmansa streams, which mark the boundary with San Pedro Alcántara.
It boasts high-end apartments, exclusive urbanisations, townhouses and a few very large villas, with spectacular sea views or right on the beachfront. There are also some plots available for those who wish to build their own dream home.
New Golden Mile: 15 minutes from Marbella and close to Puerto Banus, this is one of the areas of Estepona that has its own prestige. It includes some of the most well known urbanisations on the Costa del Sol: Bel Air, Benamara, Costalita, El Campanario, El Paraiso, Benamara, El Presidente and Villacana, as well as many new projects. In this wide area you will find local shops within walking distance, restaurants, schools and the beach in the lower part. Homes further inland enjoy extraordinary views of the Mediterranean, Gibraltar and, on a clear day, the North African coast from the nearby golf courses.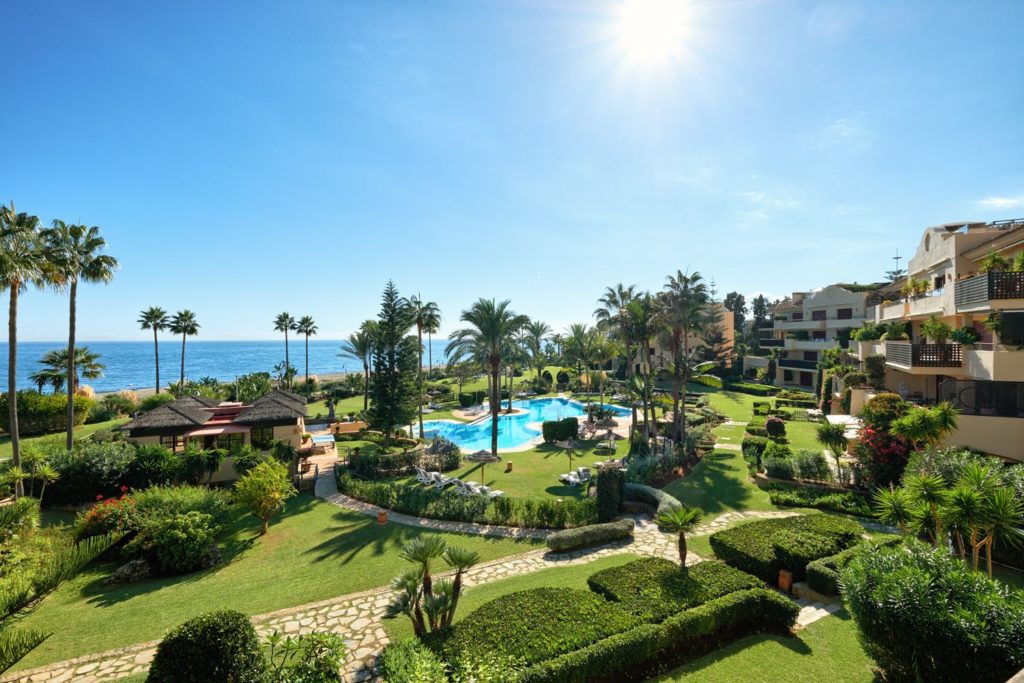 Downtown and Sports Port: This area offers the traditional town with its whitewashed homes and more modern shops lining pedestrian streets. It's a pleasant area to walk around, stopping at its restaurants and tapas bars. It contrasts with the more renovated part of town with a full range of services just steps from the Port and the beaches of La Rada and El Cristo.
Valle Romano Estepona: This is one of the best known residential resorts in Estepona. The attractive complex offers excellent quality homes, swimming pools, landscaped areas and sports facilities in a golfing environment with magnificent courses. From comfortable apartments to spacious single-family villas, it has it all.
Estepona West: Directly on the beach there are several urbanisations such as Bahía Dorada and Buenas Noches which are next to the beaches of the same name. It is a quiet area with large common areas and wide beaches where you can relax and spend your holidays.