Would you like to know where all the most astonishing beaches are, in terms of clean water and soft sand? Would you like to find yourself in an exclusive and unique site on the beachfront?
Marbella is worldwide known as one of the most popular destination in Spain. The reason for this is probably its great amount of beautiful sites to visit and enjoy in full relax. What really stands out is its 27 kilometers coastline; its beaches are a real gift of nature, impossible to leave for those who have enjoyed them once.
Marbella is considered a true paradise by beach lovers who can find up to 23 beaches in the area, each one with its special touch. Every year they receive the "blue flag", a certification given by the European Foundation for Environmental Education to those beaches and ports that meet their standards as far as environment conditions and installations are concerned. Blue Flag criteria cover standards for water quality, safety, the provision of services and general environmental magagement.
At Andalucía Realty, we are really pleased to show you the best beaches in Marbella. We do not want any to stand out of the group because all deserve a visit and then you can judge by yourself.
We will give an objective description, highlighting those features that you really have to know, but in general, as already said before, we would like you to make your own personal evaluation on Marbella paradise beaches.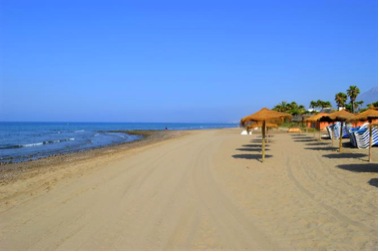 Alicate Beach
Es una de las favoritas por muchos turistas, reconocida por su larga costa de arena y por todas sus comodidades que ofrece. Sin lugar a dudas, es un lugar muy bueno para pasar un día de sol y playa acomodado con todas las necesidades que se te ocurren tan solo en los sueños.
One of tourists favourite, it is renowned for its long sandy coast and for all the comforts it offers. Cerntainly a perfect place to spend a day in the sun, with all comforts you could only have in your dreams!
Some more information here.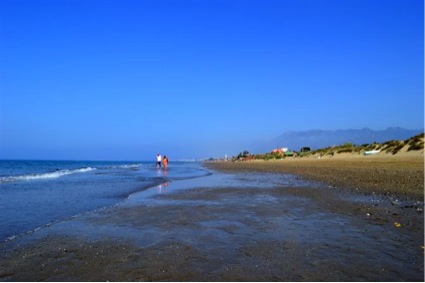 Real de Zaragoza Beach
Many people buying a house with us tell us this beach is the jewel in the crown, they really adore this beautiful site, with its fine-grain sand and its little beach bars just on this crystal-clear water sea.
Some more info here.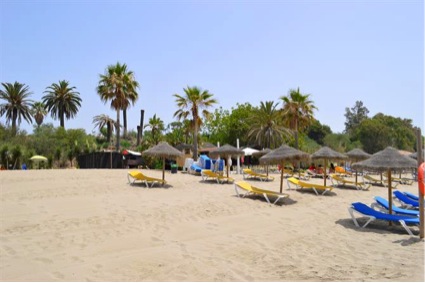 Bounty Beach
For many this is the "coolest" beach in all Costa del Sol, for its great location (right in Marbella centre), the relaxing atmosphere created by quality chill-out music, and with really affordable prices.
More info here.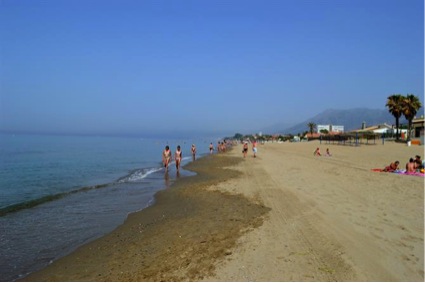 Hemosa Beach
Located at only 15 minutes from Marbella centre, next to El Rosario exit, you can find this Beautiful Beach (never a name was more appropriate Hermosa = Beautiful in Spanish)
Here you can find more info.
Rio Real Beach
Very next to the Bounty Beach you will find one of the most impressive beaches in Marbella. One of the first places you see when entering the town.
Need more info? Click here.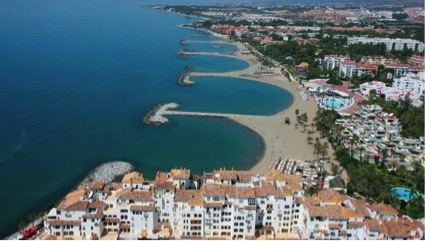 Nueva Andalucía Beach
Starting in the exclusive Banus Port and stretching out west, you will see one of the most distinctive and incredible beaches in Marbella and all Costa del Sol.
Here more info on this beach: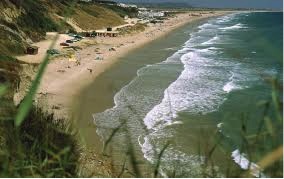 Fontanilla Beach
Certainly the Marbella city centre beach, known by everyone living in the area, well equipped place with all comforts to spend a perfect day in the sun.
Info. here.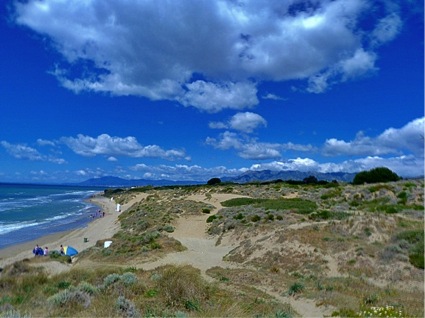 Cabopino beach
It is becoming one of the most known and frequented beach for those who love natural and virgin spots, located near the protected Artola Dunes.
Do not hesitate to click here for more info: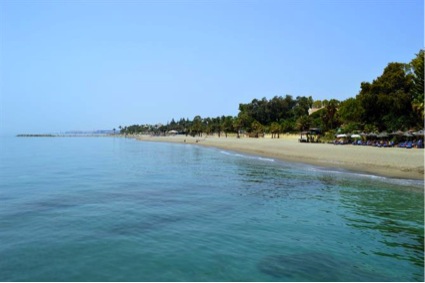 Nagüeles Beach
One of the most exclusive beaches in all Costa del Sol, located in Marbella Golden Mile, with crystal-clear water and soft spectacular sand.
More info here.
If you are thinking of buying or renting any kind of house here in the area do not hesitate to contact us and we will show you the best properties, so you will be able to enjoy all these incredible beaches and these great weather conditions.