If you are going to buy a house in Spain in 2018, you have probably wondered which is the best option for chosing a mortgage: Fixed or variable interest rates?
If you already own a property, you may ask yourself if it is time to renegotiate your mortgage with variable interest to a fixed one.
Mortgages: Fixed or variable interest?
In this article we will go through different opinions of financial and real estate experts. Let's start with an overview of the current situation of the interests:
At the moment, banks are offering mortgages at a fixed rate of 2 to 2.5%.
In January 2018, the Euribor was negative: -0.187%. As an example, if you have a variable interest rate mortgage and the differential is 1.5%, the interest that would apply to your mortgage loan would be 1.314%
As a comparision the Euribor peaks occurred in 2008, with rates above 5%: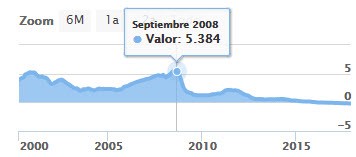 With the new Real Estate Credit Bill, or "New Mortgage Law", the Spanish Government intends to offer greater flexibility to change from a variable interest rate mortgage to a fixed one. The client who wants to transform his mortgage will assume less costs thanks to the New Law:
The reimbursement commission that may be charged by any financial institution as compensation will be 0.25% maximum.
Registration and notarial expenses will be 90% less
Financial experts and Investors have agreed that the rate increase could occur before the end of Mario Draghi's term in the European Central Bank, in October 2019. Therefore, this increase, will take place at the beginning of 2019.
The annual report of the analysis department of Bankinter presents a forecast of the Euribor for 2018 and 2019 and extract the following conclusions: interest rates will remain at the current levels with the Euribor in 2018 between – 0.30% and 0.20%. The forecast for 2019 anticipates increases that will set the Euribor at a minimum of 0.00% and a maximum of 0.40%, with a central scenario of 0.19%.
The president of the AHE believes that in 2018 the new mortgage law will consolidate the fixed rate market, because they are very attractive based on the security they offer although they can be seen as "more expensive".
It's time to take out a mortgage:
Pau Monserrat, professor of Economics at the UIB, says it is a good time to hire a mortgage, for clients who had saved 10% or 12% of the price of the property they want to acquire in order to pay the expenses associated with the purchase: agency, notary, registry and taxes.
In general, is expected a similar number of fixed and variable rate mortgages in 2018.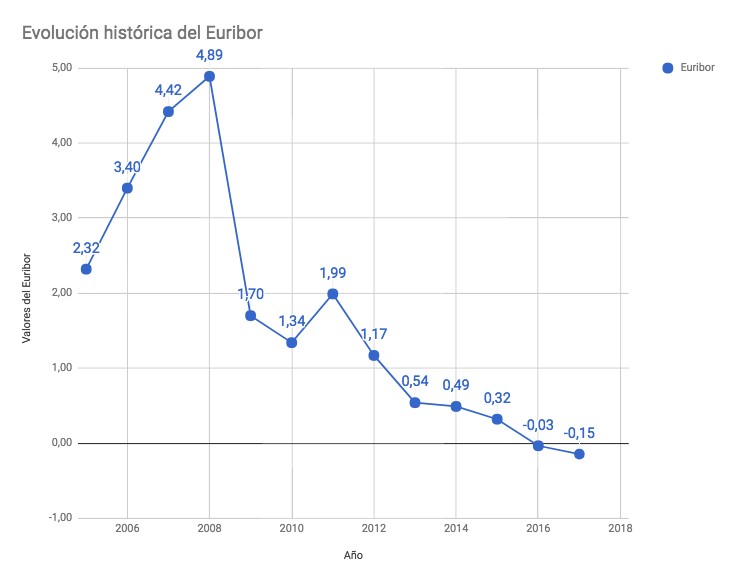 Trend of the Euribor, since 2006. Source: Rankia
The professional advice that we can give you is to ask a real estate agent in your area about your particular situation. He or she will will be able to make an estimation of your financial situation to ask for a mortgage and purchase you new home.
In Andalucia Realty we are real estate experts in the area of Marbella, Mijas, Estepona or Benahavis . Therefore if you want to buy a home in Costa del Sol we are ready to advise you in any procedure. Visit our website at andaluciarealty.com