If you are seeking to buy a property in Spain or you want to remain within the Spanish territory for more than 3 month you have probably wonder How to get the NIE.  This document is the Document issued by the Spanish Government to acknowledge foreigners staying within their borders for more than three months.
This number is only for EU citizens and is essential for almost every transaction as open bank accounts, getting internet, or renting or buying a property.
There are several options on how to get the NIE, you can pay an agency to do all the paperwork for you, (although you must be present on the appointment day), or you can do it on your own. If you choose to do it on your own, we recommend you call to the nearest Spanish embassy in your home country (if you are living there), as the time taken to give the appointment is substantially reduced in comparison with the Spanish offices.
If you decide to do it in Spain you should follow the next steps:
Download and fill in the application form:
You can download the form to get the NIE here (Form EX 15 "Solicitud de Número de Identidad de Extranjeros y Certificados"). As all documents are in Spanish, (and must be filled in this language), we have included a PDF with the translation of all the fields that you can download here. Please note that the form must be in Spanish, the English version is just to help you fill it. It doesn't replace the original one in any case
Apply online for the payment of the NIE
Fill in the MODELO 790-012 (must be filled online and printed), to be paid in the bank. When filling you should include your passport number in the "Nif/ Nie" field, and your personal data on the rest (name and surname, and address).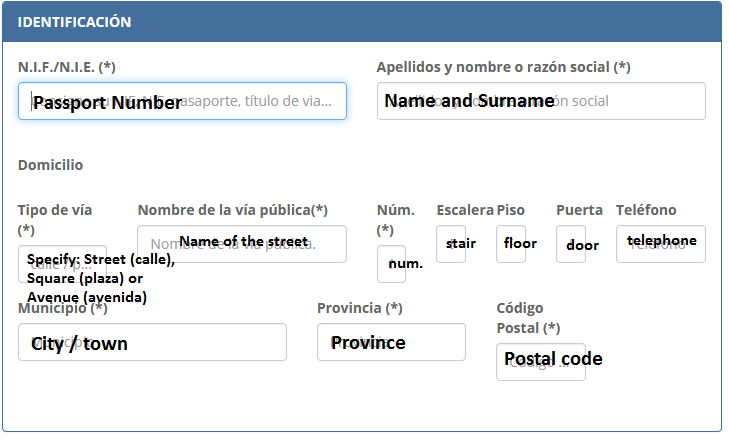 After filling your personal data, go to the forth section " Documentos de identidad y títulos y documentos de viaje a extranjeros indocumentados y otros documentos" and select "Asignacion de Número de Identidad de Extranjero (NIE) a instancia del interesado".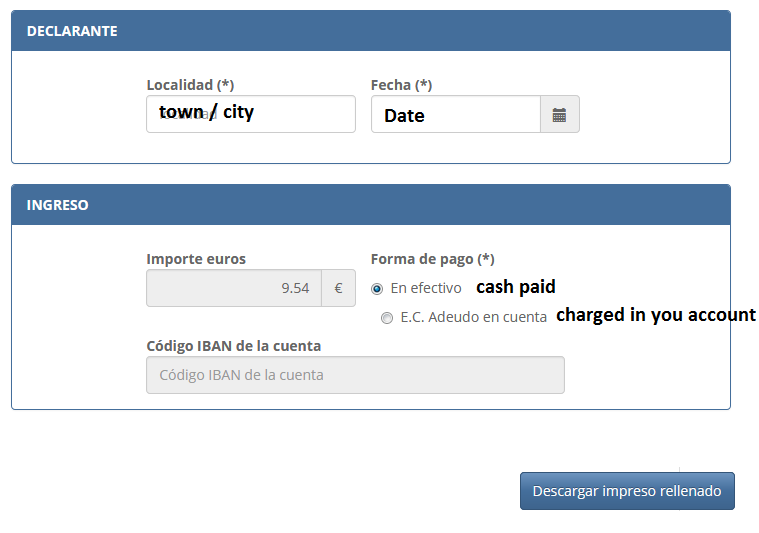 Go to the bottom of the page, choose your payment method (charged in your bank account or paid in cash.) and click on "Descargar Impreso Rellenado" to download the form filled. Don't forget to take it to the office the day of your appointment.
Make an appointment online:
In this webpage you can select the province where you want the appointment to take place and click on "Aceptar" In this case we are doing it in "Malaga"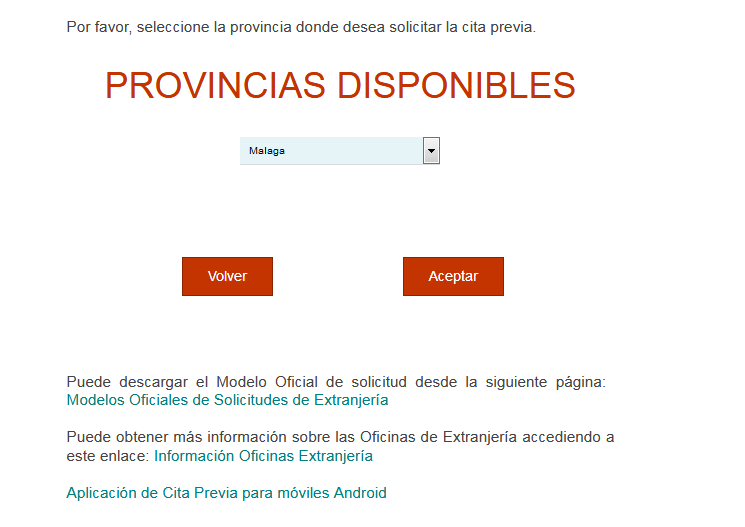 Select "CNP- Certificados y asignación NIE", on the following screen and click on "aceptar"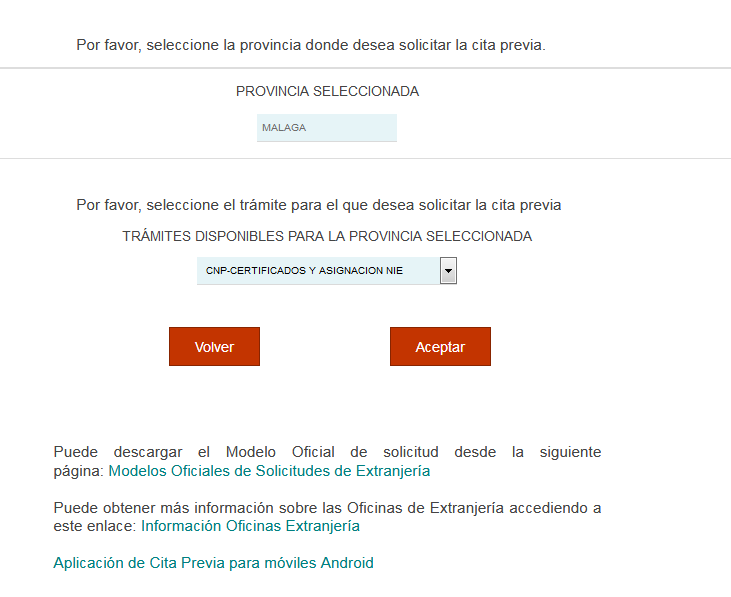 A text compiling all the documentation you should bring will appear. If you have printed and filled all the documents mentioned in the above steps, and have your passport and a copy of it, you can go on and request your appointment. Click on "Entrar".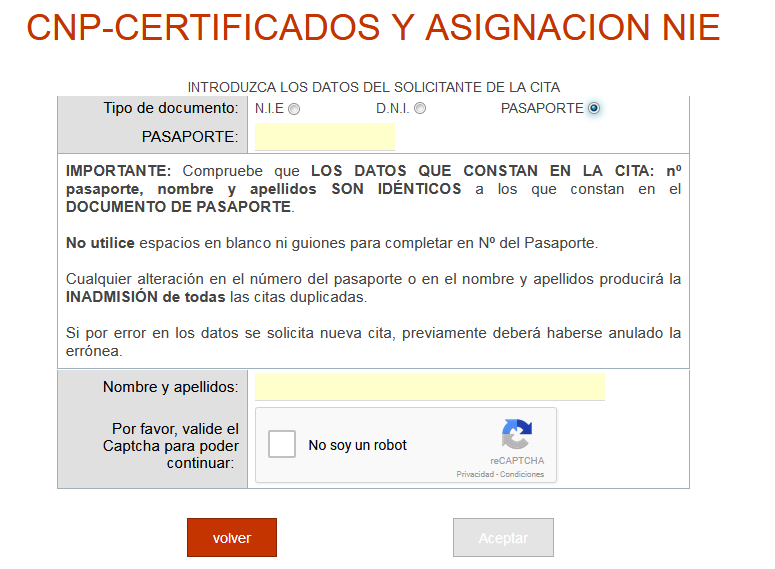 In the next step you have to fill your personal data. Select passport and fill in your Passport number, name and surname.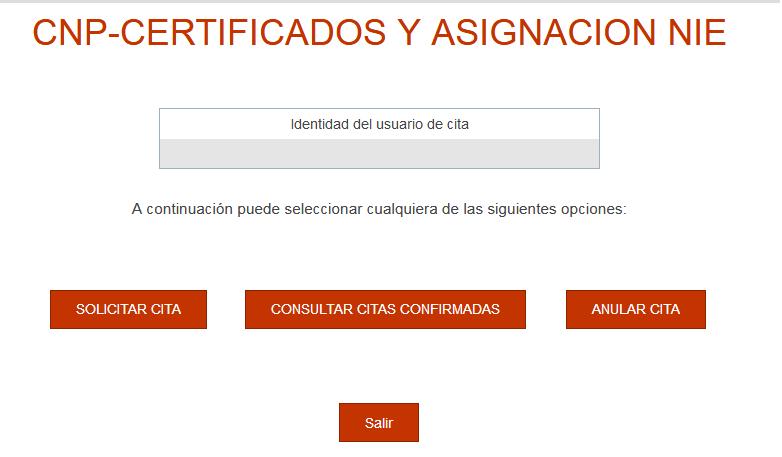 Select the day you want the appointment to take place by clicking on  "solicitor cita". Note some offices can't give appointments sooner than one or two weeks.
Check you have all the documentation ready:
A valid EU passport and a copy
Completed EX – 15 Form (step 1) in spanish.
Complete Modelo 790 (for the payment, step 2)
Proof of the economic, professional or social interests justifying the application:

a contract showing you are going to buy a property in Spain or a Car, etc)
Proof that you can live in Spain without working
Acceptance letter from the school if you are a student
You can also go with your passport only without any proof of the interests, but the NIE will only be valid for 3 month until you have one of the above documents to proof your interests.
All documents must be in Spanish. If they are originally in other language, they must be translated into Spanish with a certified translation.
Attend to your appointment with all the documents and wait It can take up to two weeks.
In Andalucia Realty, our aim is to simplify as much as possible the process of buying a property in Spain, and  we help our clients to get the NIE, guiding them and compiling all the documentation needed.